Departing New York, New York for a 10 day cruise through New England and the Atlantic North East on board the ms Rotterdam, Voyage number 129. Our first destination port is Newport, Rhode Island.
Following boarding, we found our room on the Promenade Deck, #3353 and prepared for our two weeks together.
Our key activities today included, life boat drills, departing NY Harbor, having our first on board dinner and then the evening show with the Rotterdam Cast.
As we slipped out of the harbor, we enjoyed the skyline, but their was a minor pain as we looked to where the twin towers of the World Trade Center once stood.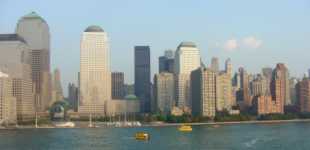 Our last key sight as we were leaving the harbor was the "Lady" herself. Emotionally seen by millions as they approached the "new land". We were getting to say good bye, but only for a short time.