October 12, 2002
Ottawa, ON
We arrived this morning and berthed in Montreal. We then boarded a buss and will spend the day (and night) in Ottawa. Tomorrow morning, we reboard the buss and travel to our next destination Montebello.
Our activities today included, the Ward Market in Ottawa, the Canadian Civilization Museum, an interruption to watch the Queen (ya babee), and a personal tour around Parliament hill.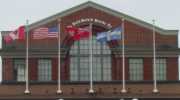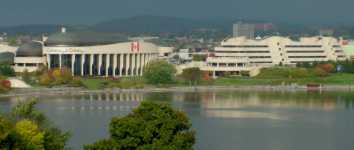 The Civilization Museum from across the river illustrates the "curvatious" design of the building. The Architect, a native north American has a tribal tradition that states spirits hide in the corners. Thus, no corners ! Many looked at the roof, some saw a "whale", while others saw an "upside down canoe".
The Canadian wing, on the third floor was exceptional with a walk through series of life size dioramas portraying life in Canada. They even had a complete (authentic) chapel.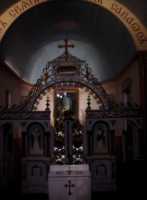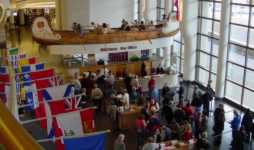 The courtyard had many photogenic spots - noticed by the wedding photographers as well. In the 15 minutes we were out there, 2 different bridal parties had pictures taken and a student movie team started production of an amateur short.
We were in Ottawa on Canadian Thanksgiving Week-end and there were celebrations being set up all over because the Queen was in town. As our tour buss progressed to the hotel in the afternoon, we were stopped and asked to wait.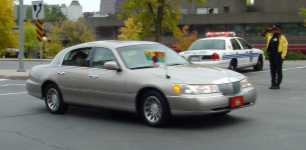 Yes, This is the Queen - see her hat !!!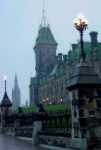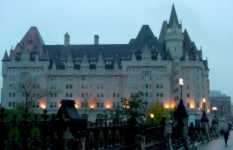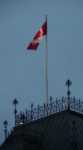 Our hotel (in the middle above) reminds me of the Magic Kingdom.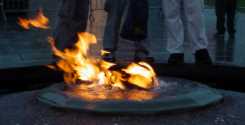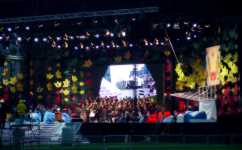 This night, while walking around on Parliament hill, we got to see and hear a complete dress rehearsal for the program to he held here the next day for the Queen. We were happy that we would be departed and long gone before the program really started.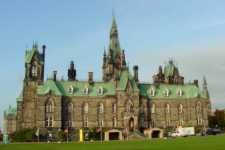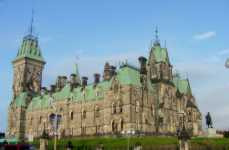 When morning broke, the sun was out, and the clouds were gone. What a beautiful day for the Queen and our drive to Montebello.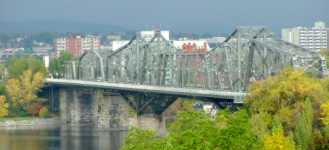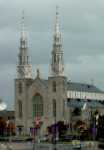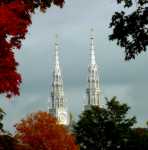 We didn't get to visit this cathedral because it was booked for weddings all day. Since it was just behind our hotel, I walked by and was able to get these two pictures. I just love the twin towers with the red, gold and green leaves.